Hey folks
Since the GPLed dating platform code out there is crappy PHP work and not suited to help geeks meet each other either, I started designing a new matching algorithm in course of the rewrite of geekdarling.ch as a Ruby application.
Basically the idea is quite easy. First I travel the bipartite tree and cut it into subtrees matching the basic requirement of matching sexual orientation and this way saving CPU power by checking for bidirectional preferences.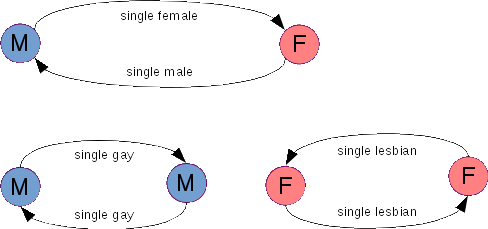 Second step: I will then value additional attributes based on a two way connection and average the weight of every forth and back arrow.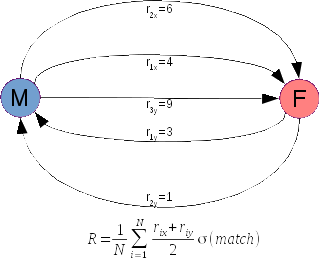 For the example on the upper graphics that would mean: R=(((6+1)/2)+((3+4)/2)+0)/3=2.3
Illuminated!
I'm not quiet done yet, but that's where I'm going

Please gimme feedback.