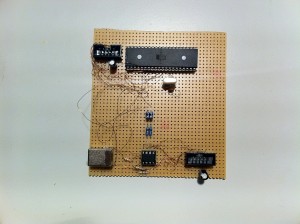 Take a look.
The first few steps are done now. It already registers as a serial interface over usb. And I can get the inputs back I write into /dev/ttyACM0, when I shorten the jumper between RXD and TXD...
I already did flash the Arduino firmware...
I'll continue my work next week, as soon as my fellow, who has my soldering iron in his room is done with this social crap, called "Poly ball preparation"...
As some of you perhaps already have remarked: I have replaced the ATiny2313 by an ATiny85.
As soon as everything works, and all dimensions for resistors and capacities are evaluated and corrected, I'll make a new schematic and also a PCB and upload it.